…is a soprano-clarinet duo dedicated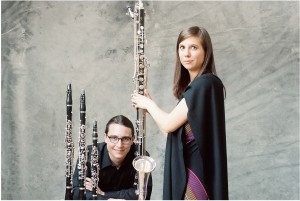 to performing standards in 20th and 21st century repertoire, contemporary works that are underperformed, and new commissions.  NOISE-BRIDGE is especially dedicated to the experience of the audience and in actively collaborating with composers.  The duo was formed in 2009 when German clarinetist Felix Behringer and soprano Christie Finn met in the Contemporary Performance Program at Manhattan School of Music.  NOISE-BRIDGE has performed as such venues as The Tank NYC, Vicky Chow's contagious sounds series at the Gershwin Hotel, and An Die Musik LIVE! (Baltimore, Maryland).  NOISE-BRIDGE often works with American and European composers, many of whom collaborated with the duo at the International Summer Courses in New Music (Darmstadt, Germany) in 2012 and 2010, where they conducted "open space" workshops. 
—–
Upcoming Tour:  
5-8 March 2013: NOISE-BRIDGE in Chicago!
NOISE-BRIDGE (clarinetist Felix Behringer and I) will present a colloquium at Northwestern University, give a performance at Elastic Arts, and record some new works.  Join us during our tour in the Second City!
8 March 2013: Performance at Elastic Arts
Featuring World Premieres of works by Chris Fisher-Lochhead, Eliza Brown, and Stuart Saunders Smith!