NOISE-BRIDGE is a soprano-clarinet duo dedicated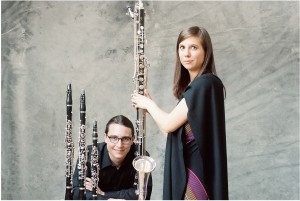 to performing standards in 20th and 21st century repertoire, contemporary works that are underperformed, and new commissions.  NOISE-BRIDGE concerts often contain theatrical or extra-musical elements, and the duo active collaborates with composers.  NOISE-BRIDGE was formed in 2009 when German clarinetist Felix Behringer and soprano Christie Finn met in the Contemporary Performance Program at Manhattan School of Music.  Since then, NOISE-BRIDGE has performed as such venues as The Tank NYC, the Gershwin Hotel (New York City), Elastic Arts (Chicago),  An Die Musik LIVE! (Baltimore, Maryland), KunstRaum 34 (Stuttgart, Germany) as well as in the concert series "Musik der Zeiten" and in the tonArt Festival, both in Esslingen, Germany.  NOISE-BRIDGE often works with American and European composers, many of whom collaborated with the duo at the International Summer Courses in New Music (Darmstadt, Germany), where the duo has conducted "open space" workshops. 
—–
NOISE-BRIDGE ist ein Klarinette-Sopran Duo, ansässig in Stuttgart, das sich der Aufführung von Werken des 20. und 21. Jahrhunderts widmet, sowie Werke selbst in Auftrag gibt. NOISE-BRIDGE legt besonderen Wert auf die aktive Zusammenarbeit mit Komponisten. Das Duo hat sich 2009 in New York gegründet, wo sich der deutsche Klarinettist Felix Behringer und die amerikanische Sopranistin Christie Finn im Studiengang für Zeitgenössische Performance (Contemporary Performance Program) an der Manhattan School of Music kennenlernten. Seitdem sind sie an Orten wie The Tank (New York), The Gershwin Hotel (New York), An Die Musik Live! (Baltimore), Elastic Arts (Chicago) und letzten Juni im Rahmen der Konzertreihe "musik der zeiten" in Esslingen aufgetreten. Vergangenen März war NOISE-BRIDGE Gast an der Northwestern University in Chicago und war dort an einem Kolloquium der Kompositionsstudenten beteiligt. NOISE-BRIDGE arbeitet regelmäßig mit Komponisten, viele von ihnen kollaborierten mit dem Duo an den Darmstädter Ferienkursen für Neue Musik 2010 und 2012, wo das Duo auch "open space" Workshops durchführte.