—–
NOISE-BRIDGE is a soprano-clarinet duo based in Stuttgart, Germany dedicated to performing contemporary music and commissioning new works.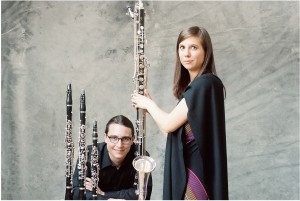 NOISE-BRIDGE concerts usually include theatrical or extra-musical (i.e. video or literary) elements, and the duo actively collaborates in the composition process.
NOISE-BRIDGE was formed in 2009 when German clarinetist Felix Behringer and American soprano Christie Finn met in the Contemporary Performance Program at Manhattan School of Music.  Since then, NOISE-BRIDGE has performed as such venues as The Tank NYC, the Gershwin Hotel (New York City), Elastic Arts (Chicago),  An Die Musik LIVE! (Baltimore, Maryland), Schloss Bonndorf (Black Forest, Germany) and KunstRaum 34 (Stuttgart, Germany) as well as in the concert series "Musik der Zeiten" and in the tonArt Festival, both in Esslingen, Germany, the Klangraum Festival in Stuttgart, and contagious sounds in New York City.
In collaboration with an international community of composers, NOISE-BRIDGE has built a diverse and vibrant repertoire of music for voice and clarinet, including more than a dozen new works written specifically for the duo by both established composers as well as up-and-coming young composers. NOISE-BRIDGE met many of these composers while conducting "open space" workshops at the International Summer Courses in New Music (Darmstadt, Germany) and has also worked with composers and students at Northwestern University (Chicago).
Recent projects include the premieres of Azerbaijani composer Rahilia Hasanova's opera Pendulum Clocks and American composer Matt Aelmore's theatrical evening Cowboy Rock 'n Roll U.S.A., both composed for NOISE-BRIDGE. Other special theatrical projects include Liebesverbrechen, or The Crimes of Love, an evening-long theatrical concert, which included both contemporary and Baroque music and also involved an actor and a percussionist. http://noise-bridge.com
—–
NOISE-BRIDGE ist ein Klarinette-Sopran Duo, ansässig in Stuttgart, das sich der Aufführung von Werken des 20. und 21. Jahrhunderts widmet, sowie häufig Werke selbst in Auftrag gibt.
Konzerte des Duos schließen normalerweise theatralische oder außer-musikalische Elemente wie beispielsweise Video oder Literatur ein. Das Duo legt besonderen Wert auf die aktive Zusammenarbeit mit Komponisten.
NOISE-BRIDGE hat sich 2009 in New York gegründet, wo sich der deutsche Klarinettist Felix Behringer und die amerikanische Sopranistin Christie Finn im Studiengang für Zeitgenössische Performance (Contemporary Performance Program) an der Manhattan School of Music kennenlernten. Seitdem sind sie an Orten wie The Tank (New York), The Gershwin Hotel (New York), An Die Musik Live! (Baltimore), Elastic Arts (Chicago), Schloss Bonndorf (Schwarzwald) und dem Kunstraum 34 (Stuttgart), sowie mehrfach im Rahmen der Konzertreihe "musik der zeiten" und beim tonArt Festival in Esslingen aufgetreten.
Unter anderem durch die Zusammenarbeit mit internationalen Komponisten hat sich NOISE-BRIDGE ein sehr unterschiedliches und facettenreiches Repertoire von Werken für Stimme und Klarinette erarbeitet, darunter dreizehn Werke, die speziell für das Duo geschrieben wurden von sowohl etablierten als auch verheißungsvollen jungen Komponisten. NOISE-BRIDGE lernte viele von diesen Komponisten an den Darmstädter Ferienkursen für Neue Musik 2010 und 2012 kennen, wo das Duo "open space" Workshops durchführte. Außerdem arbeitete das Duo mit Komponisten und Studenten an der Northwestern University (Chicago).
Jüngste Projekte waren die Uraufführung der Oper Pendulum Clocks der Aserbaidschanischen Komponistin Rahilia Hasanova und der musiktheatralische Abend Cowboy, Rock 'n Roll U.S.A. des amerikanischen Komponisten Matt Aelmore (beide Werke wurden für NOISE-BRIDGE komponiert). Ein weiteres speziell theatralisches Projekt des Duos war der Konzertabend Liebesverbrechen, der gemeinsam mit einem Schauspieler und einem Perkussionisten durchgeführt wurde und sowohl zeitgenössische als auch barocke Musik beinhaltete. http://noise-bridge.com